Sierra Foothill Commentary
Reblogged from Icecap.us
By Joseph D'Aleo, CCM
Starting in January 2019, unusual and at times record cold has been locked in over the north central states.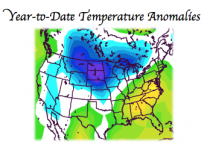 Though there was heat in late summer in the southeast and eastern Gulf to the Mid-Atlantic, the cold held in the north central. After a very cold spring with late snows, which significantly delayed or prevented grain planting, a cool summer followed and gave way to a very early cold shot in late September that brought early deep freezes and even record snows in the north central leading to significant crop losses.
There have been 90 all-time record lows versus just 44 all-time record highs this year. That included the all time state record low of -38F in Mount Carroll in Illinois on January 31st.
The cold central deepened in October and pushed to the east bringing very early snow into the Midwest. October…
View original post 349 more words