Sierra Foothill Commentary
Joseph D'Aleo, CCM
[Note some links were broken at Weatherbell]
The U.S. Climate Reference Network (USCRN) is a systematic and sustained network of climate monitoring stations with sites across the conterminous U.S., Alaska, and Hawaii. These stations use high-quality instruments to measure temperature, precipitation, wind speed, soil conditions, and more. Information is available on what is measured and the USCRN station instruments.
The vision of the USCRN program is to provide a continuous (more accurate) series of climate observations for monitoring trends in the nation's climate and supporting climate-impact research.
The Surface Stations project found over 90% of long term stations had siting issues that would produce a warm bias of >= 1C. UHI was also a factor.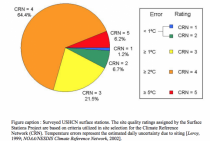 USHCN surveyed 7-14-09 Enlarged.
According to GAO's survey of weather forecast offices, about 42 percent of the active stations in 2010 did not meet one or more of the siting standards and…
View original post 102 more words